teresas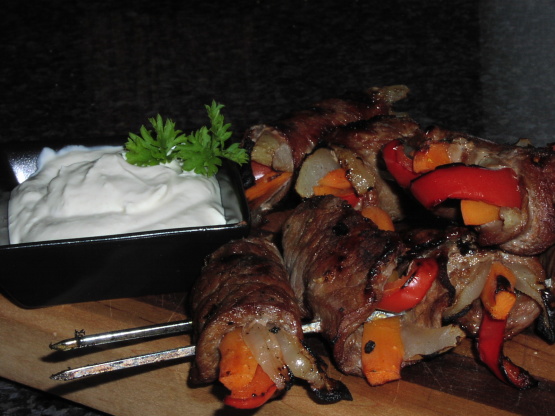 Just plain yummy. These are fit for company. Served with a creamy mustard sauce. Adapted from TOH. The instructions are based on my cut of meat and may vary depending on how many slices of meat you get. The recipe said 16 slices but I only got 8. I doubled the marinade when I made it but not in the recipe.

Loved...loved...loved these tasty little bundles...the flavors just pop in your mouth...they to take some time to prepare...but isn't that what cooking is all about...I was out of yellow peppers so used red instead...the horseradish mixture is tasty...but both hubby and I felt it wasn't needed...in fact it took away from the flavor of the meat...this is going in my best of 2013 cookbook...thanks for posting the recipe...=)
Cut beef widthwise into 8 slices, 1/4 inches thick. Then cut in half, longwise (You should have long strips about 2 inches wide.).
In a medium bowl, combine the soy sauce, sugar and ginger.
Add the beef making sure the meat is covered.
Refrigerate overnight or at least 4 hours.
In a saucepan, bring water and carrots to a boil. Reduce heat, cover and simmer for 3 minutes.
Add onion and peppers, return water to boil then reduce heat and simmer for 3-5 minutes or until vegetables are crisp-tender.
Drain and immediately place vegetables in ice water.
Drain and pat dry.
Drain and discard marinade from beef.
Arrange 2 onion strips, one carrot strip and one pepper strip down the center of each beef slice.
Roll up.
For each kabob, use metal or soaked wooden skewers and thread two bundles on two parallel skewers.
Coat grill rack with nonstick cooking spray before starting the grill.
Grill kabobs, covered, over medium heat for 2-3 minutes on each side or until beef reaches desired doneness, turning once.
In a bowl, combine the sour cream, mustard and horseradish.
Serve with kabobs.