Mercy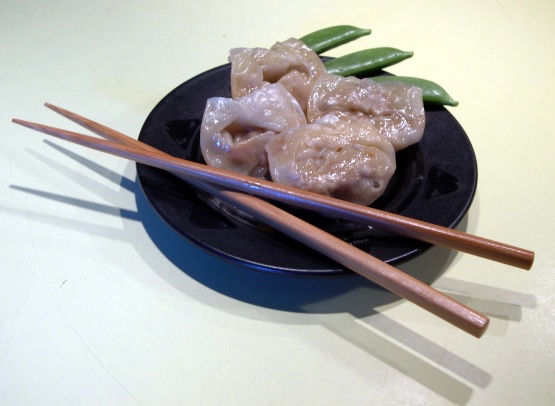 I watched this recipe being made on the Food Network on Semi Homemade Cooking with Sandra Lee and knew I had to hunt down the recipe. Mmmm, one of my favorite dishes at a chinese buffet.
In a medium bowl, combine sausage, green onions, soy sauce, hoisin sauce and garlic.
Place 8 wonton wrappers on a clean surface and brush edges with water.
Place 1 tablespoon of mixture in the center of each wrapper.
Gather edges of wrapper together over filling.
Press edges of wrappper together enclosing the filling completely.
Repeat with remaining wrappers and filling.
Place a collabsible metal steamer rack in a large wide pot.
Fill pot with 1/2 inch of water.
Spray steamer with non-stick cooking spray.
Bring water to a simmer.
Working in batches, arrange dumplings on rack 1" apart.
Cover pot with lid and steam dumplings until cooked thoroughly, about 8 minutes.
Watch the water level and add more as needed.
Transfer dumplings to a platter and serve with dipping sauces.