Oriental Pork Tenderloin in Foil Packets
WiGal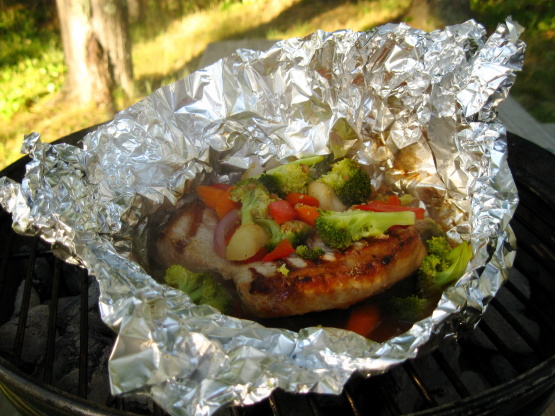 This meal is prepared in a foil packet which is easy to prepare and clean up.

Top Review by WiGal
Took this recipe camping with us into the beautiful Porkies of Michigan. I prepared the liquid mixture ahead-basically doubling it b/c I wanted the boneless chops to marinate. I also used 2 tablespoons soy sauce. I put half into zip lock with pork and reserved other half of liquid for veggies later. At our site, dh seared chops on each side as I wanted score marks plus know that the meat would be done. After searing, we put the chop in foil, topped with veggies, and then decided there wasn't enough reserved liquid and didn't have more sesame oil nor soy with us so added about 3 tablespoons of orange juice to reserved mixture and divided between packets. Dh then closed up packets, and we grilled them for about 18 more minutes. Thank you Audrey for sharing.
Preheat grill to medium-high heat or preheat your oven to 450 degrees.
Place a 4 ounces of pork slices, 1/2 cup broccoli, 1/2 cup carrots, 2 ounces water shestnuts, 1/4 cup red bell pepper strips and 2 Tablespoons green onions on each piece in foil packet.
Combine soy sauce, sesame oil and garlic.
Spoon over pork and vegetables.
Bring up sides of foil and double fold.
Double fold over end of packet, leaving room for heat to circulate.
Grill 4-16 minutes in covered grill or bake 18-22 minutes on a cookie sheet in oven.