Pamela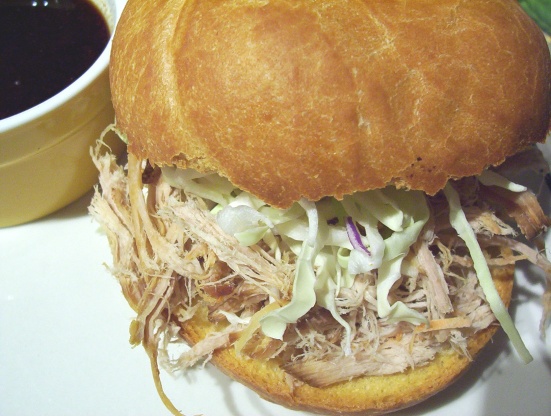 Tasty, tangy sandwiches from the crockpot. Doesn't get any easier and no heating up the kitchen.

At first it seemed like the flavor would be pretty bland, even after adding quite a bit more soy , five-spice, and even teriyaki. But then later after we reheated it to have for dinner, I have to say it was very good! A much better and more interesting flavor than traditional American pulled pork. We also just used bagged coleslaw. You could even turn this in to a sort of stir-fry by sauteeing the cooked meat and cabbage together for a bit and putting it over cooked rice- that is my plan next time for the leftovers, if there are going to be any!
Trim any fat from the roast.
Cut the roast to fit into your slow-cooker in needed.
Put roast into slow-cooker.
In a small mixing bowl, add the apple juice, soy sauce, hoisin sauce, and five-spice powder; stir to combine.
Pour over roast.
Cover and cook on LOW for 8-10 hours.
Take meat out of slow-cooker and place in a large bowl or on a flat surface.
Shred meat, using two forks (remove bone if there is one).
Place meat on roll bottoms.
Top with shredded cabbage; add roll tops.
Skim fat off of cooking juices.
Serve cooking juice in small bowls for dipping.