Bec6206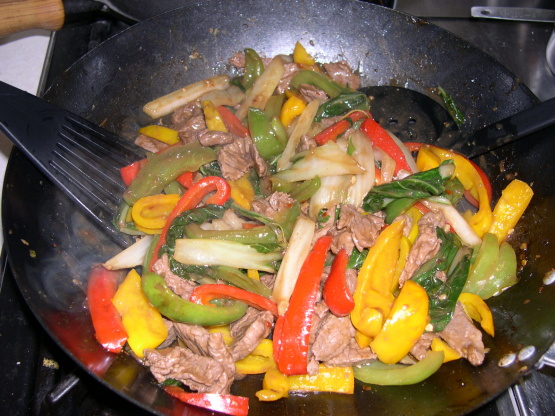 I found this recipe in an old cookbook, and since it looked so good I decided to post it! This recipe is to serve 4 people, but it depends on how hungry you are! The dish uses bok choy, which is a variety of Chinese cabbage with long white stalks and large deep green leaves. Use both the stalks and leaves in this recipe.
Thinly slice beef across the grain into bite-size strips.
For sauce: In a small bowl, stir together beef broth, soy sauce, sherry (or water), cornstarch, sesame oil, crushed red pepper (cayenne), coriander, and ginger. Set sauce aside.
Add 1 teaspoon of the cooking oil to a wok or large nonstick skillet. (Or cooking spray) Bring to medium-high heat.
Add garlic; stir-fry for 15 seconds.
Add bok choy; stir-fry for 1 minute.
Add pepper strips; stir-fry for 2 to 3 minutes more or until the vegetables are a crisp-tender. Then, remove the vegetables from the wok or skillet.
Add remaining 1 teaspoon oil to wok.
Then, add the beef; stir-fry for 2 to 3 minutes or until the beef is done. (Don't drain the beef's juices)
Push beef from center of wok and stir the sauce; add to the center of the wok. Cook and stir until thickened and bubbly.
Return the vegetables to the wok, and stir them to coat with sauce. (Feel free to add more of the soy sauce, crushed red pepper, coriander, or ginger to get more flavor)
Cook about 2 minutes more or until it is heated through. (Be sure to try a pepper strip or two to make sure they are cooked enough)
Serve with rice.