Oriental Mini Meatloaves With Honey Garlic Sauce
Pamela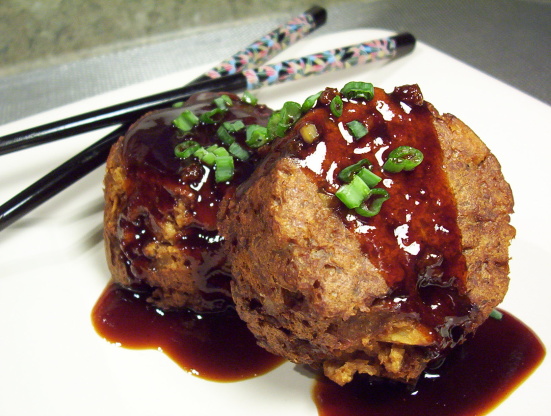 A yummy variation on traditional meatloaf. I have also made this mixture into meatballs as well.

I'm giving these a 5 for concept and ease. I have some suggestions for people trying this recipe though... We found these mini-loaves a lil' too salty. I reccommend using lite or low-sodium soya sauce in the meatloaves. I used milk instead of evaporated milk and it comes out fine. Beef substitutes well for the ground turkey/chicken. The crunch of the water chestnuts had to be explained to those at the table (otherwise they didn't know /WHAT/ the crunchy thing was that they were biting into.) The sauce for the loaves was lovely and has possibilities for use in other dishes.
Meatloaves-Combine all ingredients in a large bowl.
Mix lightly but throughly to blend.
Divide into 12 muffin cups.
Bake at 350 degrees for 30-35 minutes.
(You can freeze the loaves at this point. Place into a large ziploc bag, label and freeze. To serve: heat in oven or microwave until warm, serve with sauce.).
Or Remove from pan and serve with honey garlic sauce immediately.
Sauce-Combine ingredients in a sauce pan.
Cook and stir on low heat until hot and bubbly.
Serve with rice or Oriental noodles.