twissis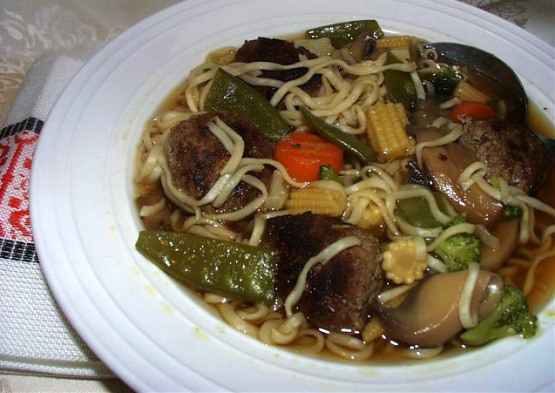 I used to get my hair done at my hairdresser's house. One day she was cooking this soup and it gave the air a delicious aroma. She has since moved away but I still make this soup and it always gets raves!

This oriental soup is tasty & so easy to make. I used grd pork for the meatballs & a collection of veggies indluding mixed leftovers, canned mushrooms & baby corn + snow peas from my freezer. It was a good cleanup effort that will include adding the last bit of some fried rice tomorrow. This soup makes an excellent 1-dish meal & would satisfy even the most dedicated meat & potatoes man. This will be repeated w/just the addition of some garlic. Thx for sharing this recipe w/us. Edited to Add: Since making this recipe w/meatballs as written, I have also tried it w/baby shrimp & it is equally good. :-)
Combine pork (or turkey), green onions, ginger, soy sauce and shape into meatballs.
Heat in oil 5 – 7 minutes until browned.
Drain.
In a large pot boil the water& chicken broth.
Add the meatballs, frozen vegetables and the ramen noodles.
Bring to a boil.
Reduce to medium and cook for about 10 minutes.
Add the baby corn and cook for 2 – 3 minutes.
Serve!