twissis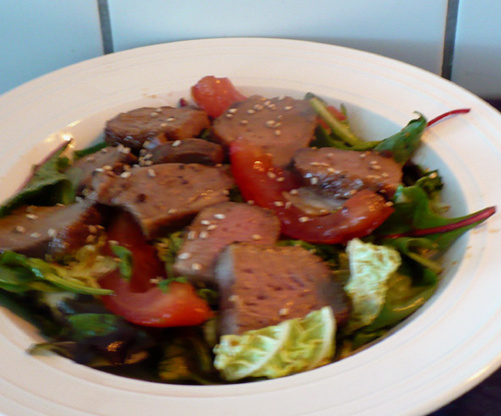 A special warm salad for sharing. This would work well as an appetizer for 4 or a main course for 2. The dressing is perfect for duck but make sure you mix it well so the honey doesn't sink to the bottom.

Used as a starter course for 4 & pls forgive several chgs I made to allow for my last moment choice as I do not feel they altered the heart of your recipe. I started w/already marinated & grilled duck breasts, used mixed salad greens, regular tomatoes & thinly sliced leek rounds vs scallions 9basically what I had on-hand). The dressing was made as written & perfection w/its well-balanced flavors. I also added a light sprinkle of sesame seeds atop ea salad. The outcome was outstanding & well-received by our guests. Your recipe was a spec start to our dinner. Thx for sharing it w/us.
Heat the oven to 400°F.
Score the skin of the duck breasts and season.
Heat a non-stick frying pan over a high heat, add the duck, skin side down and cook for 4 mins or until the skin is crisp. Turn over and quickly brown the underside then transfer to a baking tray.
Mix the dressing ingredients together and spoon all but 2 tbs of it over the duck. Roast the duck for 10 mins for pink or longer if you prefer.
Remove from the oven and allow to rest for 4 mins then slice into strips.
Toss together the salad leaves, tomatoes and scallions with the duck slices.
Drizzle over the remaining dressing and serve.