Derf2440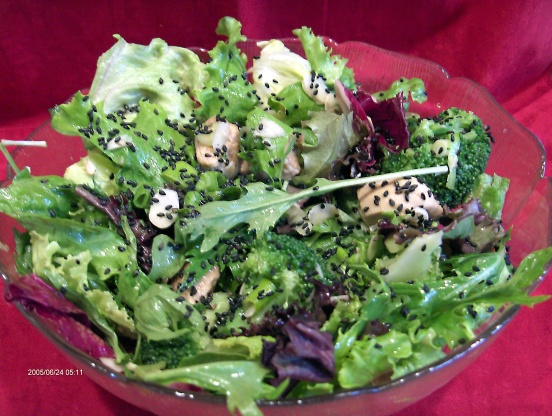 This is a wonderful salad that I have made many times. I got this recipe from a friend at work and it is one of my favourites. The chicken should marinate at least 2 hours and I was'nt sure how I should work that into the prep time.

Bert, this recipe deserves the Nobel Peace Prize! Really, I am not joking! We had guests for Saturday lunch and in the middle of the middle our kids and their kids started to fight about something totally inane (which boy band is better, can you believe it?). First one kid had a taste, and then shut up to eat. Then the rest of them all followed suit, and we had a table full of kids munching away on chicken salad (except for the vegetarian, who picked at the nuts). The adults also enjoyed this, although not as much as they enjoyed the peace and quiet caused by eating this salad. I used balsamic vinegar instead of the white wine vinegar, and added a handful of toasted cashews to the slivered almonds. This is the perfect salad to serve at a garden party (we ate on the patio). Bert, expect that call from Sweden, those Nobel people should be calling you any day, now that I've put in the nomination!
Prepare a marinade by mixing wine, soy sauce and ginger.
Marinate chicken for at least 2 hours.
Drain well.
Put salad, green onions, broccoli, almonds and chicken in a large salad bowl.
Combine all dressing ingredients in a jar and shake well.
Toss salad with dressing and sprinkle sesame seeds on top.