mjerusha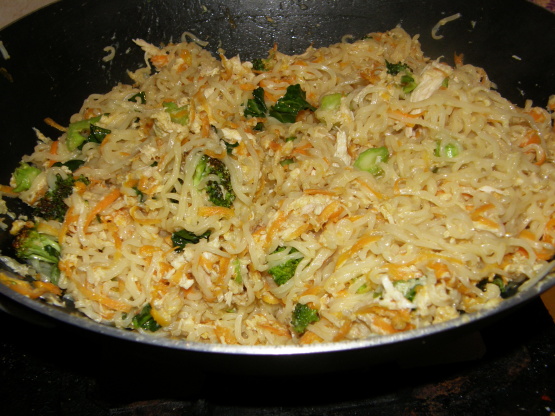 I got this recipe back in the day from a package of Oodles of Noodles ramen noodles. Its a cheap, and easy, yet tasty meal. Sure to please! (NOTE: cooking time does not include cooking the chicken).

Very good, and easy. As one reviewer suggested, I used a bag of broccoli slaw instead of chopping carrots and broccoli myself. I added a bit of garlic, and a bit of red pepper flakes...we like a little spice. I had leftover turkey from the Christmas feast, so it was a very quick meal, and a total hit with everyone.
Break up noodles while still in package.
In a medium saucepan, bring water to a boil.
Add to the boiling water, the broken ramen noodles and the seasonings from 1 flavoring packet.
Cook, uncovered, stirring occasionally for 3 minutes.
In a frying pan, saute chicken in butter. Sprinkle with the other seasoning packet and the ginger.
Stir in carrots and broccoli.
Cook and stir 2 minutes (I usually cook a little longer).
Toss with cooked noodles.
Garnish with toasted sesame seeds (peanuts are good too, and fresh chopped tomatoes).