awalde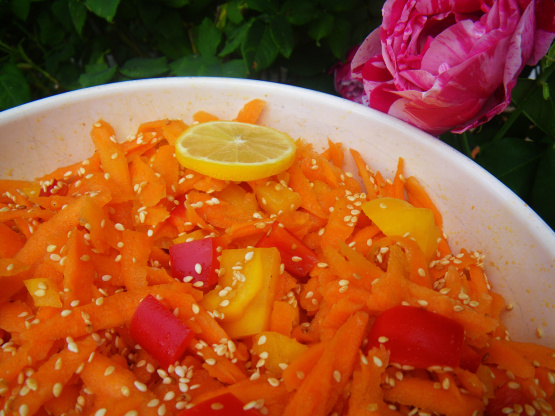 This recipe is delicious! The sesame oil gives it a nutty and unusual flavor. I just made it for a picnic I'm going to. After tasting it, I know it's a salad I'll be making many more times. From the cookbook Lean and Luscious and Meatless.

Top Review by awalde
We all loved this delicious salad. I did not have green peppers and I had to use some yellow and red one. The color combinations were magnificient!
The super touch to this salad was the sesame oil!
I tried this salad just after preparing it and some hours later: Both very good I cannot say which one would be better.
In medium bowl, combine carrots and green pepper.
In a small bowl, combine remaining ingredients.
Add to carrots, mixing well.
Chill several hours to blend flavors.
(To toast sesame seeds, place them in a shallow pan in a 350 degree oven for 15 minutes, or until lightly toasted, stirring occasionally.).