Chef Dee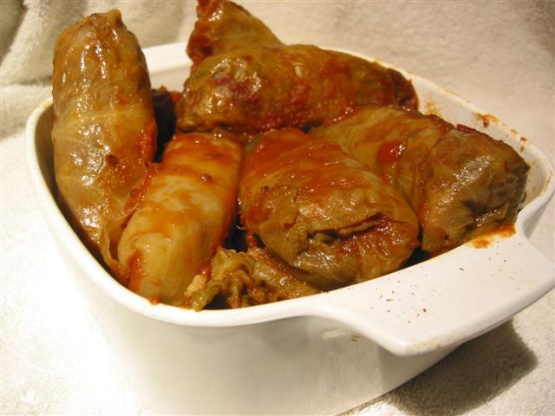 I am often asked for this recipe when I take these cabbage rolls to a potluck They have a sweet but spicy tang. Don't let the oriental ingredients scare you, they are perfect for this recipe.

These were ok, the filling was a bit dry though, I would add alot more tomato sauce next time. I also added some extra fresh chilli since I love my foods very spicy. One thing that puzzled me though was that the cabbage was very tough, I guess only the inner parts of the cabbage leaves should be used? Nevertheless this was the first time I tried making anything of this sort, and I will be trying again :-)
I'm adding a note to this recipe. The cabbage leaves need to be soft enough to roll for this recipe to work. One way to achieve this, is to wash the cabbage, freeze while still damp, then thaw and steam slightly. I like to defrost them in the microwave.
Combine pork,beef, rice, garlic,onion, soy sauce, ketchup, brown sugar, ginger, salt and pepper; mix well.
Spoon about 1/2 cup meat mixture onto each cabbage leaf.
Fold in sides; then starting at an unfolded edge, roll up completely to enclose filling.
Place rolls seam side down, in a greased 13 inch x 9 inch baking dish.
In a saucepan over medium heat, combine sauce ingredients; heat and stir until sugar is melted and sauce is hot.
Pour over rolls.
Cover and bake at 3oo degrees for 2 - 21/2 hours.