Oriental Beef and Broccoli
PaulaG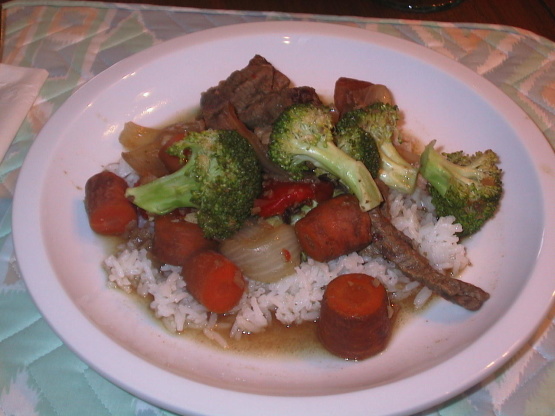 An easy slow-cooked dinner that my family likes. Well seasoned but not a hot/spicy dish. Adapted from BHG.

An easy and tasty crockpot meal! I cooked this for a total of 7 hours; omitted the carrots and doubled the ginger, garlic, lite soy, gravy mix and water and served over steamed rice. DH loves his salt and soy so he added a few dashes of non-low sodium soy sauce on his serving for extra flavor; though I found it had enough flavor as is. I bet this would taste great with some julienned green pepper added as well. Thanks for this recipe; it made my cooking task on Mother's Day quite easy; I was able to make and serve my family a meal they enjoyed while I was able to enjoy the day without spending it slaving over a hot stove.
Layer the carrots, onions, and beef strips (in that order) in a 4-quart slow cooker.
Sprinkle evenly with ginger and garlic.
In a small bowl, mix together the water, soy sauce, and gravy mix.
Pour over meat and vegetables.
Cover and cook on LOW for 6-8 hours.
Increase heat to HIGH; add in broccoli, stir to combine.
Cover and cook 15 minutes or until crisp tender.
Season to taste with salt and pepper if desired.
Serve over hot rice.