Oreo White Chocolate Mousse Cake
MeliBug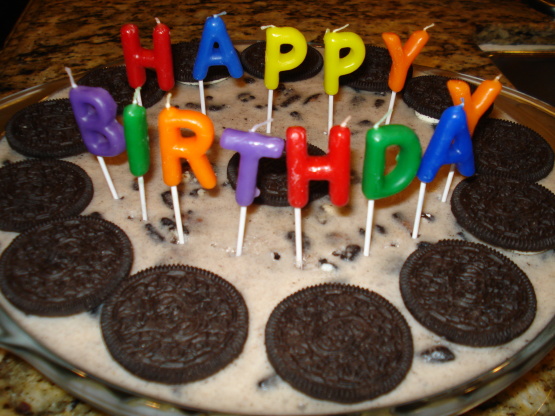 Perfect for any holiday - use the Seasonal Oreo cookies for this recipe. NOTE: 6 hour cooking time is actually refrigeration time.

my boyfriend's mom's bday was this week and i really wanted to make her a cake! and i came across this tasty recipe! It was really easy to make ( the hardest part was not eating the oreos :/ ) the holiday oreos aren't out yet so i had to use regular oreos and chocolate stuffed oreos (i needed more than 1 package of oreos). my boyfriend and his mom loved the flavor of the cake! she even shared them with her friends who loved it as well! thanks mom2rose! made for recipe swap #20
Finely crush 24 of the cookies.
Mix with butter; press firmly onto bottom and 1 inch up side of 9-inch springform pan.
Set aside.
Coarsely chop 24 of the remaining cookies; set aside.
Sprinkle gelatin over milk in large saucepan; let stand 1 minute.
Cook on low heat 3 minutes or until gelatin is completely dissolved, stirring constantly.
Add chocolate chips; cook until chips are completely melted and mixture is well blended, stirring frequently.
Place saucepan in bowl of ice water; let stand 8 to 10 minutes or until gelatin mixture is slightly thickened, stirring frequently.
Gently stir in chopped cookies and the whipped cream.
Spoon into crust.
Refrigerate at least 6 hours.
Halve remaining cookies.
Arrange on top of cake just before serving. S.
tore leftover cake in refrigerator.