OniOkami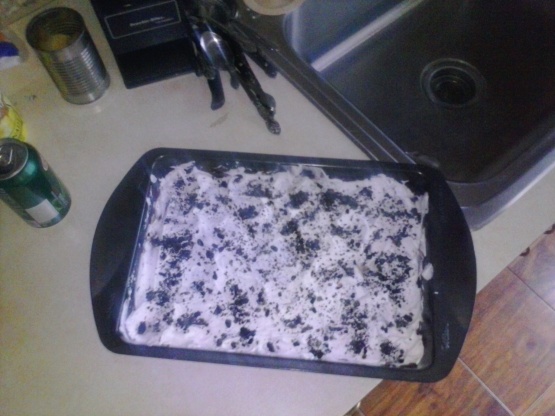 A very simple but delicious dessert that my wife begs me to make every other week! The serving size is a guesstimate as it depends on the portion size.
1

(15 ounce) bag Oreo cookies (I use peanut butter ones)
1⁄2 cup butter

1

(8 ounce) package cream cheese, softened

1

cup powdered sugar (not the same as the sugar you put into coffee and stuff, trust me)

1

(16 ounce) container Cool Whip, thawed

1

(6 ounce) package instant chocolate pudding mix (I've only used chocolate, but I'm sure others are good too)
2 1⁄4 cups milk
Melt the butter in a small microwavable dish (usually takes around 1-1:30).
Crush Oreos (use a rolling pin, makes this A LOT easier; Note: try to make the crushed oreos as fine as possible, makes it easier for the next step).
Set aside 1/4 c of the crush cookies aside, using them for the topping at the end.
Mix the rest of the cookies with the melted butter and press into bottom of greased pan.
Put the following into a bowl, and beat it with a mixer on medium speed:.
8 oz cream cheese.
1 c powdered sugar.
Half of the cool whip (or 1 of the containers if you bought 2 8 oz's).
Spread over the cookie layer you pressed into the pan, let it chill in fridge for 30 mins.
Make the pudding mix (milk + mix) in a bowl, using a whisk until its smooth.
Pour the pudding mix in the pan on top and let it chill for 60 mins.
Spread remainder of cool whip on top of pudding layer.
Sprinkle the 1/4 c of cookies you set aside in the beginning on top of the cool whip.
Store in fridge for any amount of time, though if you can't wait, its probably safe to serve by now. I do 2 hours to make sure.