Bev I Am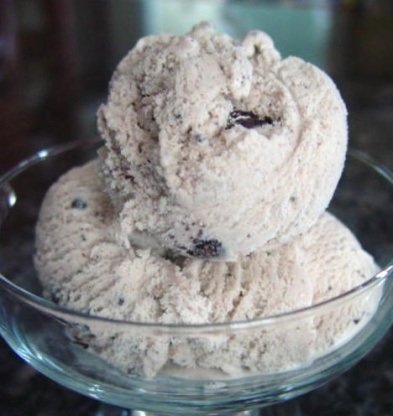 I found this yummy ice cream recipe in Ben & Jerry's Homemade Ice Cream & Dessert Book. I changed it only slightly, adding more Oreos and adding the Oreos to the ice cream freezing process a little sooner. It's very good! Cook time is the freezing process time and for my Cuisinart freezer, that's about 20 minutes.

First time making ice cream with the family, it was hard deciding on a flavor that we would all like but this was a complete hit. We did not add the food coloring since we didnt have it in the cupboard, the taste was fabulous will be making this again soon!
1

cup coarsely chopped Oreo cookies

2

large eggs
3⁄4 cup sugar

2

cups heavy cream or 2 cups whipping cream

1

cup milk

2

teaspoons peppermint extract
Place cookies in a bowl, cover and refrigerate.
Whisk the eggs in a mixing bowl until light and fluffy, 1-2 minutes; whisk in the sugar, a little at a time, then continue whisking until completely blended, about 1 more minute.
Pour in the cream and milk and whisk to blend.
Add the peppermint extract and blend again.
Transfer the mixture to an ice cream maker and freeze following the manufacturer's instructions.
While the ice cream is somewhat loose but on it's way to being frozen, add the chopped cookies and continue freezing until the ice cream is ready.
At this point, I transfer the ice cream to a plastic container and put it in the freezer to harden (ripen) completely.