jbethke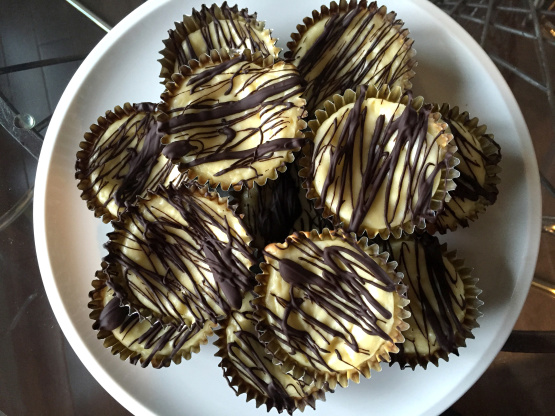 I have the Kraft "What's Cooking" magazine come in the mail every few months and this recipe was in the Fall 2006 edition. It is a very nice quick dessert. A nice taste of cheesecake in a bit size package. I also added a tsp of vanilla. Added note :After making these I realised that the cookie on the bottom does not soften completely.It may be a better idea to use a single chocolate wafer.The middle of the Oreo melts in the oven and then gets quite hard once it has cooled.

I have not made these yet, but they look like they're worth a try. I do have to say, though, that your instructions mention vanilla, but there is no vanilla listed in the ingredients. I make plenty of cheesecake, so I typically just add liberally, but it may be worth editing for less seasoned Cheesecakers. :D
Preheat oven to 350°F.
Beat cream cheese and sugar in large bowl with electric mixer on medium speed until well blended.
Add eggs one at a time and vanilla, beating on low speed after each egg addition just until blended.
Place 1 cookie in bottom of each 12 paper-lined muffin cups. Fill evenly with batter. Fill cup 3/4 of the way.
Bake 20 minutes or until centres are almost set. Cool. Refrigerate 3 hours or overnight.
Drizzle with melted chocolate; top with dollop of Cool Whip.