DuChick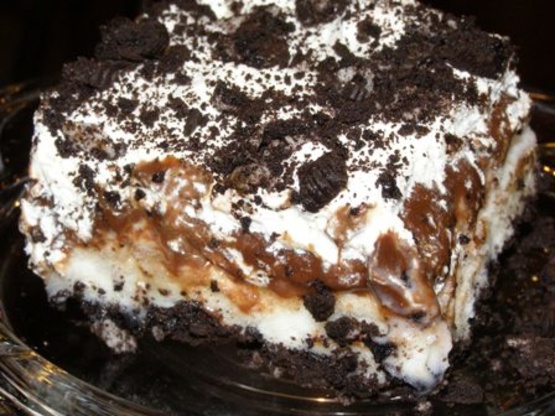 This is so good - you have to try it! I'm not a big dessert person, but I always have room for this stuff!

Top Review by Laudee
To: Kathleen Talbot My Lord, Girl, wherever did you come up with this recipe? This is Food for the Gods!!!! If there's any left after I get done sampling, I'll serve it to the family and company! They don't make enough stars to properly rate this winner!! Thanks a million for an easy, quick to fix, and super-delicious recipe. My hat's off to you. Laudee C. Colorado
Crush enough oreos for a layer in a casserole dish.
Slice ice cream (1/2 inch) and layer over oreos.
Next spread a layer of fudge topping (spreads easier if it is a little warm).
Spread layer of cool whip.
Sprinkle more crushed oreos over the top.
Freeze for 15 minutes.
Serve and watch it dissappear!