SashasMommy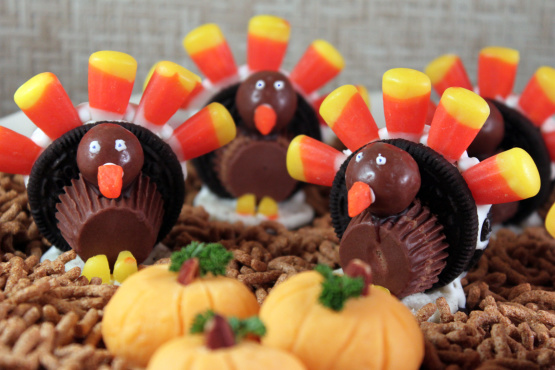 Build an Oreo turkey with Oreos, candy and frosting. This would be a fun activity for (school-age) kids at a Thanksgiving gathering to put these together. They can display them at their dinner place and eat them for dessert....if they can wait that long. The recipe I am listing will be to make one dozen turkeys.

These are TOO adorable... I can't wait to show the kids at Thanksgiving tomorrow! I took a step from the other Oreo Turkey recipe on this site and removed the top layer of the base Oreo to expose the filling. I think it looks better this way, and it's easier to stand the vertical Oreo up because you can push it down into the filling. However, you do still need to cement it with icing on the back or it will fall over. I also cemented the candy corns on with icing as those kept falling out as well. I found that laying the bird on his back to attach the body, head, and beak worked well as gravity kept them in place while the icing dried. I used the yellow part of the candy corn to make the feet. I didn't bother with the wattle as I was afraid I'd mess it up and it was pretty obvious that it was a turkey so I didn't feel it was needed. I arranged them on a bed of left-over Fiber One cereal with some pumpkins from Recipe 146641.
24

Oreo Double Stuff cookies

12

miniature peanut butter cups

12

malted milk balls

1

cup candy corn

4

ounces chocolate frosting

4

ounces white frosting
red food coloring
Place one Oreo cookie as the base. Put one teaspoon of chocolate frosting on top.
Place one small peanut butter cup on it's side so that the top and bottom are perpendicular to the base -- and stuck in the frosting. Place a teaspoon of chocolate frosting on the top(widest part) of the p-butter cup.
For the second cookie. Stick some candy corn into the Oreo 'stuff' along one edge for the feathers -- pointy side down. They should fan out around the edge. If you have trouble doing this, you can help them stick with some white frosting.
Place this second Oreo cookie (the tail) on it's edge and sticking to a dab of brown frosting on the back of the peanut butter cup.
Place a dab of chocolate frosting on top of the peanut butter up (for the head). Place a malted milk ball on top for the head.
Take a small amount of the white frosting in a separate dish. Mix in red food coloring.
Use a toothpick with the white and red colors to place eyes, and wattle. You can pinch off the small pointy top of a candy corn and dip it in brown frosting for the beak.
Your turkey is complete!