KNM5683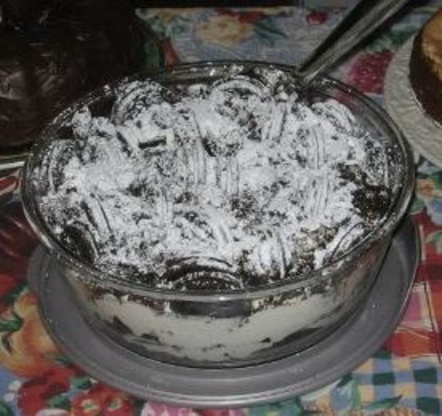 This is always my go-to recipe for gatherings. Very simple and inexpensive to make. You can also substitute store-brand names for the foods.

My first review ever. My son wanted Oreo Pie for his "kid" birthday party. I wasn't sure how many kids would like this type of pie so I made chocolate chip cookies for the "picky" eaters. There was no need - everyone cheered when they heard Oreo Cookie Pie. It is delicious and easy and we'll be serving this often!
2

(1020.58 g) bag chocolate sandwich style cookies (Oreos or the store-brand)

453.59

g container whipped topping (Cool Whip or the store-brand)

226.79

g cream cheese (Philadelphia or the store-brand)

236.59

ml powdered sugar, divided

4

(396.89 g) prepared vanilla, pudding cups (Like Hunt's Snack-Packs or the store-brand)
Crush two rows of the first bag of cookies. You can put them in a ziplock-type bag and use a rolling pin, or you can use the bottom of a cup and crush them that way in a bowl. Whichever is easier. Layer these cookies in the bottom of a 9 x 12 pan and set it aside.
Using a hand mixer, mix half the tub of whipped topping, ½ cup powdered sugar, the vanilla pudding and the cream cheese well, until blended. Spread this mixture over the cookies.
Crush the remaining row of cookies from the first bag and sprinkle over this layer.
Using a hand mixer, whip the remaining whipped topping for about 30 seconds, and spread this over the second layer of cookies.
Crush two rows of the second bag of cookies, and spread over the whipped topping
Garnish with the remaining row of cookies. I normally stand them up in the mixture, so half the cookie is standing up.
Sprinkle with the remaining ½ cup of powdered sugar, and refrigerate until ready to serve.