Oreo Cookie Cheesecake With Chocolate Glaze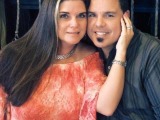 Oreo cookies AND cheesecake! How can you go wrong?
Directions
Crust:
Mix 2 cups cookie crumbs, melted butter, brown sugar, and cinnamon in a medium bowl; firmly press mixture evenly into bottom and 1 inch up sides of a 10-inch springform pan.
Bake at 350º F. for 5 minutes; set aside.
Filling:
In a large bowl, beat cream cheese at medium speed of an electric mixer until smooth.
Gradually add 1 1/4 cups sugar, beating well.
Add 1/3 cup whipping cream, flour, and 1 teaspoons vanilla; beat well.
Add eggs, one at a time, beating after each addition.
Pour 1/3 of batter into prepared pan.
Top with 1 1/2 cups crushed cookie pieces; pour in remaining batter.
Bake at 350º F. for 45 minutes.
Sour Cream Layer:
Combine sour cream, 1/4 cup sugar, and 1 teaspoons vanilla; spread evenly on cheesecake.
Bake at 350º F. for 7 minutes.
Turn oven off and leave in oven 30 minutes.
Remove cheesecake and let cool completely on a wire rack.
Chocolate Glaze:
Combine 1 cup whipping cream and chocolate chips in a saucepan; stir over low heat until chocolate melts; stir in 1 t vanilla.
Pour mixture over cheesecake while still warm.
Refrigerate at least 8 hours before serving.
Remove about 1/2 hour to 1 hour before serving, remove ring from springform pan.
Decoratively place 14-16 whole oreo cookies around edges of cheesecake.
Serve chilled.
Cook time does not include chill time.
Most Helpful
I just made this for a 16th birthday party. It was a huge hit. I was told that this was the best cheesecake that they've ever had. Thanks so much for posting this.
I have made this cake three times now and everytime I have made it I have only heard how awesome it is. Everyone always says how they have never tasted a cheesecake as good as this one. I made it last year for my landlord as a thank you/birthday present and he wouldn't shut up on how good it was to EVERYONE he knew. His sister came in to town the other day and when I ran into her, she stopped me to ask if I was the one who made the amazing cheesecake he wouldn't shut up about. Then she proceeded to ask me to make it again for his birthday since it was the big 4-0. Thank you for the lovely recipe and I will never give this recipe away to anyone. This has become my signature cake. :-D
This cheesecake looks absolutely beautiful! I made it for my husband to take into work to celebrate his college graduation. He already called me and ranted about how tasty it was! The only changes I made were to add more butter to the crust because the two tablespoons wasn't enough for it to stick together. I ended up using about five tablespoons...perhaps I used too many cookie crumbs. Also instead of using Oreos inside the cheesecake I used the peppermint Joe Joe's from Trader Joes to make it a little more festive since it is the holiday time. I did use regular Oreos for the crust though. Another difference was instead of decorating the cheesecake with the Oreos, I dipped the remaining Oreos (or Joe Joes in my case) half in dipping chocolate and sprinkled mini m&m's on top. Then I set these around the cheesecake on the platter. Otherwise I followed the directions exactly. The end result was stunning! I only wish I could have tasted it. I will definitely make it again. Thank you, Juenessa!