Oregano Cornish Game Hens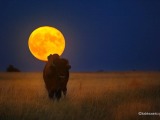 Got this easy recipe from a friend of mine who loves game hens so I thought I would post it here for you to try sometime. i like these, but don't make them as often as I could/should.
Directions
Remove bags of liver and neck from hens, rinse hens and pat dry.
Rub skins with oil.
Season hens inside& out with salt,pepper and oregano, set aside.
Stuffing:.
Make stuffing by heating butter till bubbly (do not burn).
Add onion and celery and cook for 1 minute.
Stir in bread cubes, oregano, celery salt, pepper and water.
Loosely stuff each hen with 1/4 of the stuffing.
Place stuffed hens in a roastin pan and cook at 450 degrees for 20 minutes.
Reduce heat to 350 and roast for another 30 to 40 minutes or until juices run clear when thigh is pricked with a fork.
Place on warm serving platter.
Sauce:.
Skim off exces fat from juices in pan, add water and butter.
Simmer for 2 miutes, season to taste and serve with hens.
Most Helpful
This was good, first time making or eating cornish game hens. (I bought some cornish game hens because they were on sale.) I had everything for this one on hand, so I tried it. Very nice, and I love stuffing, so that was a plus. The birds were very juicy and flavorful. Thanks Ozman!

Hi~ We had these for dinner last night and they were great. I made the stuffing on the side with a little added broth. The hens were full of flavor, tender and juicy. Thanks for posting Di

I thought this recipe was fantastic! So simple, and so yummy all at the same time. I did not stuff the birds, however. I decided to go on ahead without that. But my fiance and I just loved this, and will make this again for sure! Thanks for the great recipe!