Orecchiette Pasta With Wisconsin Cheese

This is wonderful! I saw it being put together yesterday morning on our local Fox Morning news. It is from the Wisconsin Milk Marketing Board. I made it exactly as listed (except for some salt) and now I'll figure out how to make it easier on the budget. I felt like I was eating "fine dining" off my paper plate! YUM-Yum!
1⁄2-1 lb asparagus, tough ends snapped off
2 shallots or 1 bunch green onion, diced
1 garlic clove, diced (or more)
2 tablespoons extra virgin olive oil
2 large ripe yellow tomatoes, peeled and chopped or 2 large plum tomatoes
1⁄2 cup italian white wine (see below)
1⁄2 cup chicken broth (homemade or canned)
1⁄2 cup fresh basil, cut in chiffonade
8 1⁄2 ounces orecchiette, cooked to al dente (little ears, I think that small shells would work just fine, or plain gnocci)
1⁄2 cup mozzarella cheese, shredded (I used more)
1⁄2 cup provolone cheese, shredded (used a little more, again)
3 tablespoons grated parmesan cheese (used a little more again, c,mon! I'm in the Dairy State!)
Directions
Preheat oven to 375°F.
Heat up a good load of boiling water Place asparagus in a shallow dish or pan and cover with boiling water.
Cover it and let it sit 3-5 minutes.
Drain and cool.
Cut into 3 to 4 inch pieces.
Sauté shallots (or green onions)and garlic in olive oil until translucent in a large saucepan or deep skillet.
Add tomatoes and sauté until they are soft and give out their juices.
Add wine and chicken broth.
Boil over a high heat until reduced by about 1/4.
Add the asparagus pieces and boil for about 2 minutes or so.
Add basil and mix it up.
Add the freshly cooked pasta and stir to coat.
Add the cheeses and toss to melt.
Put in a lightly oiled baking dish and bake for 20 minutes.
*If you don't want to use wine, substitute with chicken broth.
Reviews
Most Helpful
My BF liked this recipe a lot, which was a little more than I did. All the ingredients I love (cheese, vegetables and pasta), I just think it needed more spices; maybe because the provolone cheese was a bit too mild for my taste. FYI I used the two large shallots, two cloves of garlic, the wine and broth combination, did not add extra cheese, used a low-fat mozzarella and added less oil. IMHO, this recipe has a lot of potential and does not need that much more to be outstanding - either a stronger cheese combination or a liberal addition of salt and pepper or otherwise more spice. Thanks very much Mepster, I will try this again with modification.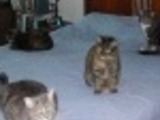 Cheese, cheese and more cheese combined with other ingredients I like, I knew I could not go wrong with this dish! Like yourself...I was also generous with the cheese, and with the basil. Had garlic bread to go with it. Thanks Meppie for an excellent dinner!

The cheeeeeesiest! It really satisfies the cheese craving and it's not your everyday pasta. I had orechiette on hand from another recipe, I used three large plum tomatoes and about two green onions. The only major change was that instead of asparagus, not really in season anymore, I used snow pea pods from the garden (we have TONS of those things). I just added them to the pasta-cheese mixture just before putting it in the oven and they were perfectly crisp-tender. I liked the wine-broth mixture... it almost made kind of a cheesy brothy thing. Be sure to have lots of bread on hand with this delicious dish to scoop up the cheesies off your plate! Thanks so much for posting this recipe!!!