Ora's Deep Dark Chocolate Cake
Boomette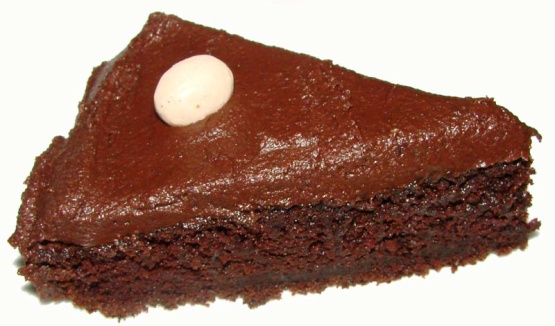 Sinful, sensational, and luscious, this cake is too easy to make to be this good! My grandmother gave me this recipe when I got married. Make it and you'll see why she kept it such a secret.

First off, this exact recipe is on the back of the Hershey cocoa powder box. Secondly, it really just did not taste that good to me. And it was horrible coming out of the pan! It stuck so badly. I would definitely recommend using shortening or parchment paper.
Heat oven to 350 degrees F.
Grease and flour two 9-inch round baking pans (tip:use cocoa powder to dust pan).
In large bowl, stir together sugar, flour, cocoa, baking powder, baking soda, and salt.
Add eggs, milk, oil, and vanilla: beat on medium speed of electric mixer for 2 minutes.
Stir in water.
(Batter will be thin.).
Pour batter evenly into prepared pans.
Bake 30-35 minutes or until wooden toothpick inserted in center comes out clean.
Cool 10 minutes; remove from pans to wire racks.
Cool completely.
Prepare Ora's Favorite Frosting; spread between layers and over top and sides of cake.