MA HIKER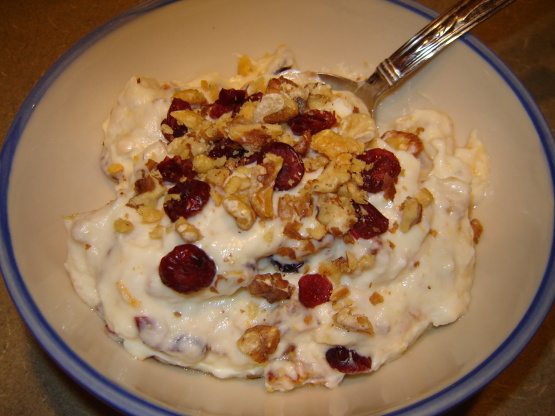 A lovely recipe from the Barefoot Contessa that is good for breakfast, snack, or dessert! This recipe is Southern and Caribbean because of the oranges! If you like, you may skip the step allowing the yogurt to drain and just add the rest of the ingredients!

This has a really delicious orange flavour. I think the orange zest makes it! I used Balkan yogurt which is already thick but I found it thins too much when mixed so I would make this again by draining yogurt. I had to replace the walnuts with blanched slivered almonds but I know it would also be good with intended. I used a halal vanilla paste instead of the extract which is very high quality. I would make this again.
Line a sieve or colander with cheesecloth or paper towels and suspend it over a bowl. Pour the yogurt into the sieve and allow it to drain, refrigerated, for 3 hours or overnight.
Place the thickened yogurt into a medium bowl and stir in the raisins, walnuts, vanilla, honey, and orange zest. Thin with orange juice until it is a desirable consistency.
Garnish with sections of orange, orange zest, raisins, or walnuts and serve. Enjoy!