Orange White Chocolate Chip Pancakes
loof751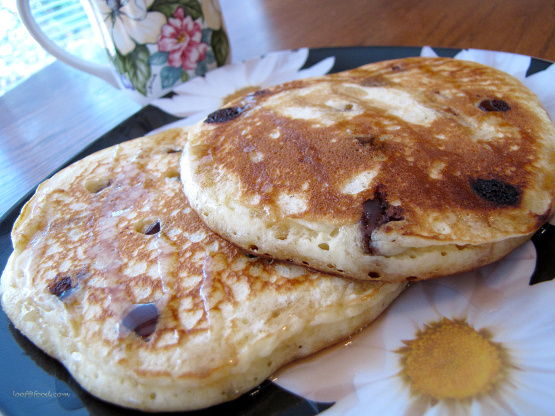 I was feeling a little adventurous this morning and decided to shake up the basic pancake recipe. The orange flavor is noticeable, but subtle, and melds nicely with the white chocolate chips. They were a huge hit.

Excellent pancake recipe! So light and fluffy and loved the orange taste. Had the batter all made, then found that the white chocolate chips I thought I had were actually butterscotch, so used semisweet with good results (looking forward to making again with the white chocolate). Served with just a little maple syrup - yum - thanks for sharing the recipe! Made for the Best of 2011 event, recommended by Boomette
Mix your dry ingredients together in a large bowl.
In a separate bowl, mix wet ingredients together, including the orange zest but NOT the butter.
Pour your wet ingredients into the large bowl with the dry ingredients and mix until just combined. Add the melted butter and stir it in!
Preheat your griddle/pan over medium heat. When it is nice and toasty, rub a little butter (or non-stick cooking spray) across the surface. It should sizzle and bubble just a little, but should not be smoking.
Pour batter onto your pan using a 1/4 cup of the batter for each pancake. When you get the beginnings of the tell-tale bubbles, sprinkle some white chocolate chips onto the wet pancake. However many you use is up to you. A little does go a long way, since they will melt and spread out a little.
When the bubbles are really talking to you, flip the pancake and cook until the other side is golden brown. Continue with the remaining batter.
Enjoy with the toppings of your choice.