Orange, White Chocolate & Apricot Pastries
BarbryT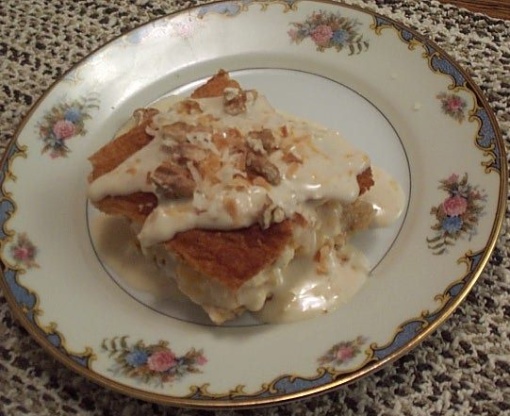 These are a treat. Your family and friends will think that they took forever to bake, only you need know how quick and easy they were to make. It'll be our little secret.

I took a close look at the preparation steps & decided that there were actually only 11, & the prep time was way less than 75 minutes ~ So that made me a happy camper! What with the combo of apricot, orange & coconut, these little thingies are AN OUTSTANDING TASTE TREAT! Certainly a keeper! [Made & reviewed for one of my partners in the Aus/NZ Recipe Swap #17]
Add the fresh squeezed orange juice to the diced dried apricots to stew for an hour.
Unfold the thawed pastry and place on a baking sheet.
Score into 8 rectangles.
Sprinkle the pastry lightly with cinnamon.
Bake puff pastry in a 375 degree oven for 20 - 25 minutes.
Drain the orange juice from the apricots and making sure that the apricots are well drained, set the apricots aside till needed.
Cool pastry on wire rack.
Once the pastry has cooled cut along the scored lines of the pastry sheet.
In a bowl mix the yogurt, sour cream and brown sugar together.
Divide the yogurt mixture into two bowls.
To the first bowl add the small, fresh orange chunks, the stewed, well drained, diced apricots and the grated white chocolate.
In the second bowl add the coconut milk, orange rind and the toasted coconut.
To start assembling the pastry, split the 8 pastry rectangles in half horizontally.
You should now have 16 rectangle pieces of pastry.
You will need two pieces of pastry per treat.
Spread 2 tbsp of the yogurt, fruit, chocolate mixture on top of the pastry portions without cinnamon.
Place the remaining cinnamon topped pastry rectangle over top and spoon the remaining yogurt mixture of orange rind and toasted coconut on top of the final puff pastry.
Garnish with finely chopped toasted walnuts.
Serve immediately or cover and chill no longer than 2 hours.