Orange Upside-Down Oven Biscuits
GaylaJ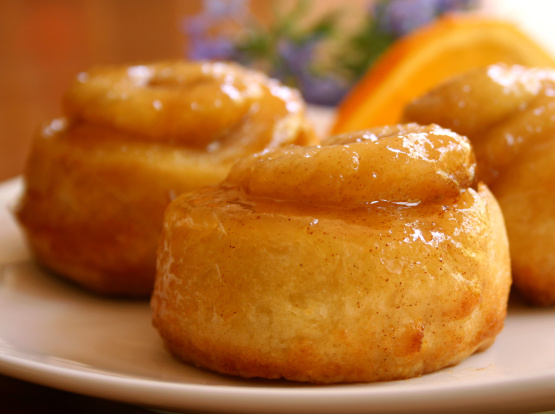 These pretty, delicious and easy to prepare biscuits were found in Kitchen to Kitchen a feature in The Houston Chronicle. Hope you enjoy.

Top Review by GaylaJ
These are wonderful, Peggy Lynn! The biscuits have great texture, and the topping and filling add just the right amount of flavor and sweetness. They are perfect as is, but if you would like a stronger citrus flavor, it could be interesting to try adding a little fresh orange zest to the dough. I put the muffin tin on a large, parchment-lined baking sheet in case there were any overflows. I only had one small drip, but I would suggest doing so as a precaution, depending on your particular muffin tin (or use foil--I think I just grabbed the parchment paper out of habit, since I always bake with it). I did reduce the oven temp, since I was using a convection oven. Enjoyed very much--thanks for posting!
For the topping:.
Combine ingredients in a saucepan and cook over medium heat until butter and sugar melt, about two minutes.
Divide the topping among a standard muffin tin.
Do not line the muffin tin with paper baking cups.
For the biscuits:.
Preheat the oven to 425 degrees.
Sift the flour, salt and baking powder into a large bowl.
Cut in the shortening with two knives or a pastry blender until it forms coarse, uneven crumbs.
Add the milk.
Mix well, but with a light touch.
On a flour-dusted surface,roll the dough into a large rectangle.(approx 11x9).
Spread with butter.
Mix the sugar and cinnamon and sprinkle it over the dough.
Roll as you would a jelly roll and slice into 12 biscuits.
Place a single biscuit in each muffin cup.
Bake until golden, about twenty minutes.
Cool a couple of minutes,then invert cautiously onto a plate,taking care that the sticky topping doesnt burn you.