Karen..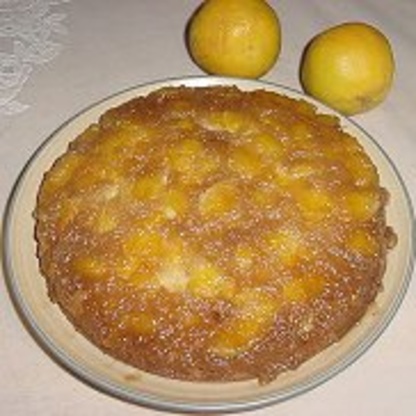 An old recipe from Armour Star Lard out of my grandmom's recipe box. I have substituted shortening for the lard :)

The final result here is an excellent cake, but I must admit I had misgivings. When my batter was mixed, I had such a thick and unforgiving looking mixture that I doubted the addition of one egg white of meringue would lighten it at all. But after folding, I had a batter which would at least plop into the prepared pan. As for the pan, the 'supremes' from three oranges seemed a bit meagre so I did peel another orange and add about half of that. Also I added a nice hit of grated orange rind to the batter and was very glad that I did. I must say it is a wonderful smelling cake and a very pretty cake with its cocentric rows of carmelized oranges. And it is quite good tasting, though of those who ate it tonight, the majority (4 of 6) felt it was more of a brunch or breakfast sweet than a dessert. I think it will be perfect baked in mini round pans as a breakfast/brunch sweet. I also think I'll have another piece (just a sliver) right now...Thanks, Karen!!
Cream shortening, sugar, vanilla and 2 tbl milk together until light and fluffy.
Blend in egg yolk.
Sift dry ingredients together and add alternately with remaining milk.
Beat egg white until frothy and add 2 tbl sugar.
Beat until a meringue in formed and fold into cake batter.
Melt butter and combine with brown sugar in a 9 inch cake pan.
Peel and section oranges, removing all membrane.
Arrange over brown sugar mixture and pour batter over top.
Bake at 350* for 35-40 minutes.
Remove from pan immediately, fruit side up.
Serve hot or cold.