teresas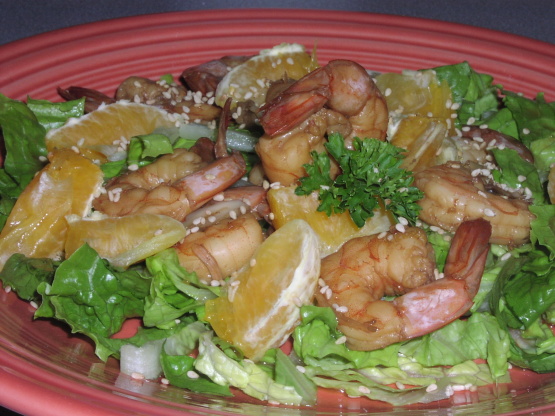 Relax with your favorite tea and make some extra to use in this recipe. For the sauce, I suggest that you make a strong tea by using 2 tea bags. Posting for the ZWT6 Wild Card Challenge for Unrulies Under the Influence -spicy, sweet and relaxed! If you want to serve it with rice, try putting a bit of tea in your water. After Teresa's kind review, I have reduced the tea by half.

Yummy salad. Something different but it had a great taste. I let the sauce simmer longer but it still was very thin. I had enough leftover that I'm keeping it to use as flavoring for a dipping sauce. I didn't have the mandarin orange so I used the rest of an orange. I loved the smashed garlic. I used a large one and while it was cooking I shredded it in smaller pieces. Nice and tender, the tea mixture gave a great taste to the garlic. Thanks for posting. :)
In a medium skillet, melt butter over medium heat.
When butter melts, add the garlic.
Saute garlic until fragrant and just beginning to turn golden.
Add orange zest and stir quickly with garlic, about 15 seconds.
Add tea, vinegar, honey, soy sauce and orange juice to pan and allow to come to a simmer and reduce slightly, a minute or two.
Add shrimp and continue to cook until prawns are opaque and firm, cooked through.
Place a handful of greens on each plate.
Serve shrimp with drizzle of sauce over the greens.
Garnish with mandarin orange slices and sesame seeds (or almonds).