Bec6206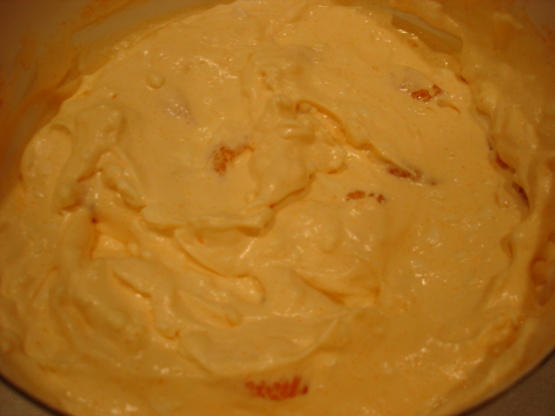 This reminds me of orange sherbet! It is from my favorite cookbook- The Roosevelt Raccoons "All of Our Favorites" cookbook. The cookbook contains recipes from active parents and teachers of Roosevelt Elementary School, Mankato, MN. It is where I went to school, and my family submitted all of our family favorites for it. So, we probably have 10 copies of the book in our house! I changed the name to "Orange Stuff," after our family favorite "Green Stuff." Before, this was simply called "Salads."

A yummy no-guilt treat! I used only 1 can of oranges since I was making it from memory, but checked Zaar and was pleased to see that the recipe is already posted here. It's perfect for when I want a little something sweet but don't want to load up on calories -- I use all fat free/sugar free ingredients and it's just as good as with the full fat/sugar kinds.
Combine cottage cheese and Cool Whip in a large bowl.
Add dry Jello and stir until Jello is thoroughly mixed.
Gently fold in mandarin oranges.
Refrigerate for at least 30 minutes. It is best when refrigerated overnight.