Orange Streusel-Topped Muffins
Boomette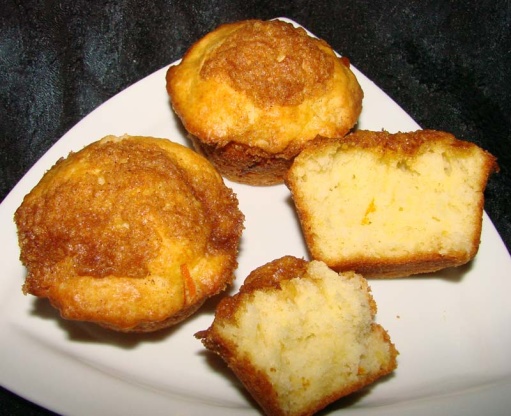 Orange flavored muffins with a struesel topping!

These muffins are heavenly! Light and fluffly and you can taste the orange. I give it four stars instead of five though, because the butter for the streusel topping should not be melted. I did so anyway as the recipe instructed. So what did I get? Not a crumbly streusel to sprinkle on top, but liquid. So as soon as I put the muffins in to bake, there was a burning smell. The so-called streusel ran off onto the pan and some dripped onto the bottom of the oven. Next time, I shall not melt the butter for the streusel topping.
Combine flour, baking powder, baking soda, salt, sugar and grated orange peel. Stir in orange juice, melted butter, eggs and chopped nuts.
Pour into 12 muffin cups.
Blend 1 tablespoon melted butter, brown sugar, cinnamon and sprinkle on top of each muffin.
Bake in a preheated 350F oven for 20 - 25 minutes.