Orange Squash and Garbanzo Stew/Soup
Derf2440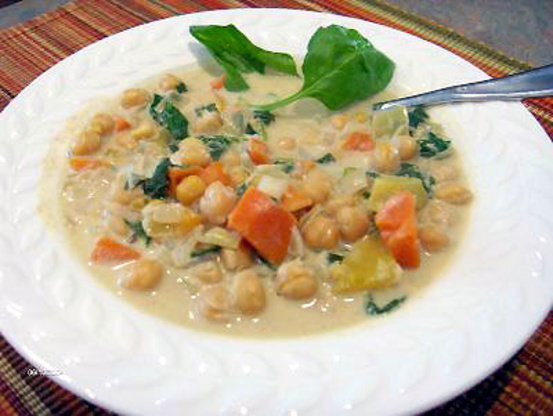 A healthy Veggie diabetic soup/stew with reduced fat coconut milk, spices and lots of taste!! (from Diabetic cooking) Diabetic exchanges = 3 starch, 2 fat.

I loved the lime + coconut combination in this recipe. The squash made the curry taste even richer. Next time I make this I will add even more jalapeno and maybe some chopped peanuts on top!
Heat oil in medium saucepan over medium low heat.
Add onion, pepper, ginger and garlic.
Cook, stirring, 2 to 3 minutes or until onion is translucent but does not brown.
Add cumin and coriander while cooking, stirring, 1 minute or until spices are aromatic, taking care not to burn.
Add water, soy sauce, squash and beans to pot, bring to boil.
Reduce heat and simmer for 15 minutes or until squash is tender and water is nearly cooked away.
Add coconut milk and heat through.
Add lime juice and cilantro or spinach and stir to blend.
Garnish with spinach or cilantro leaves.