PaulaG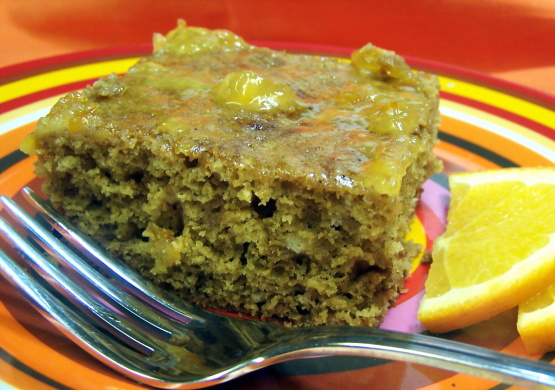 This recipe was posted at another site. After LorenLou's review, I tweaked the recipe and wanted to make an update with a stronger orange flavor.

This cake is orange heaven! I increased the sugar and all spices slightly just personal preference. Fresh OJ is a must for this cake! Paula this is a fantastic cake, thanks for posting!..Kitten:)
Preheat oven to 350 degreees.
Spray a non-stick 9-inch square baking pan with cooking spray, set aside.
Combine flour, sugar, baking soda, ginger, cinnamon and cloves.
Combine organge juice, molasses/sorghum, orange zest, orange extract, oil and egg; add to dry ingredients and stir until moistened.
Pour into prepared pan and bake for 16-20 minutes.
Spoon marmalade over warm cake.
Cool on a wire rack.
Serve garnished with whipped topping and orange slices.