From super food ideas. Substitute splenda for honey to make diabetic friendly. The recipe recommended 3 oranges were needed.
Directions
Grate rind of the oranges and juice. Peel and grate ginger. Crush (garlic press)/finely mince garlic.
Combine orange rind, orange juice, ginger, garlic, soy sauce, honey (or splenda) and salt and pepper in a screw top jar.
Secure lid and shake until well combines.
Recommended for noodle salad, rice salad or asian style coleslaw.
Store dressing in jar for upe to 7 days in the fridge.
Most Helpful
It took me so ridiculously long to find a SIMPLE fat-free, oil-free dressing that uses ingredients that I typically have on hand and this recipe fits the bill exactly. The fact that it's soooooo delicious is a bonus. Thank you! #raw #vegan #starchsolution (And for you militant vegans, you can use agave or a date instead of honey)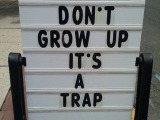 This is a delcious dressing which I served over salad, and such a quick and easy dressing. (probably not invented for salad, but I liked the idea and it worked well for this family!) I must admit I had no oranges on hand so used bottled orange juice and mandarin peel grated instead of orange. This dressing had a great citrus taste and yet tangy yet sweet, all flavours sweet and sour belended so well very well and complimented the salad. Tangy and sweet and so very full of flavour. Thanks Pat, A keeper here. Made for Edition 7: MAKE MY RECIPE -- a game of tag

I thought I already reviewed this recipe. I made this twice. The first time I made it, I didn't have any oranges. It was good. I thickened it and used it as a dipping sauce for chicken wings. It tasted better on the wings rather than by itself. I made it a second time after I got some oranges. The orange flavor was over-powering. I had to add some more of the other ingredients to tone it down. It might have been the oranges I used. I used it on a salad I made. If I make this again, I'll cut the orange rind in half. Thanks for posting the recipe.