Orange-Scented Cinnamon Rolls
skat5762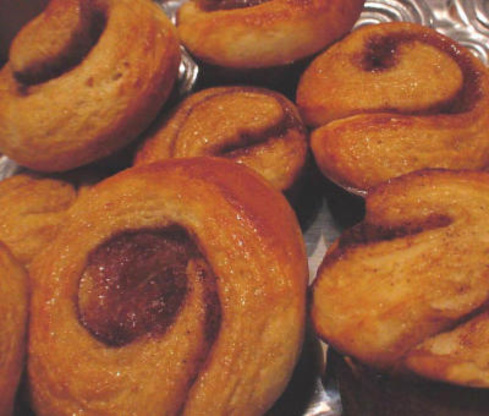 Sweet rolls that fill your kitchen with the happy scent of orange and cinnamon. Perfect for a weekend with family or friends. Prep time includes rising times.

Top Review by P48422
These are wonderful! Not too sweet, perfect for breakfast. I had a bit of trouble with the rising times - they took much longer to rise than indicated in the recipe. But still - they did rise, and they baked up well. The only change I made was to omit the nuts and use dried cranberries in place of the raisins. The dough was easy to make and easy to handle. Great roles, S'kat!
Combine flour, yeast, salt and sugar in container of food processor fitted with steel blade and process 5 seconds.
Add 2 tablespoons butter and egg, and pulse a few times, until well combined.
With machine running, drizzle most of milk through feed tube.
Process just until a dough ball forms.
If necessary, add more milk, 1 teaspoon at a time.
Knead by hand on a lightly floured surface a minute or two longer, adding more flour or milk as necessary, until dough is smooth and elastic.
Butter a bowl and place dough in it, turning to coat.
Cover and let rise in warm, draft-free area, about 2 hours.
Roll out dough into a 1/2-inch thick rectangle.
Brush liberally with melted butter, then spread with a mixture of sugar, cinnamon and orange zest.
If desired, add raisins or chopped nuts.
Roll up jelly-roll style, then cut into 1- 1 1/2-inch thick slices.
Place rolls in a buttered round pan.
Place one or two rolls in middle, and work the others out around it, so that all are touching.
Cover and let rise until puffy, about 1 hour.
While rolls are rising, boil together 1/2 cup sugar and 1/2 cup orange juice until thickened.
Just before baking, brush slices lightly with butter, then liberally with this mixture.
Bake in a preheated 400-degreee oven until nicely browned, 20- 30 minutes.