Orange-Sauced Chicken Breasts
loof751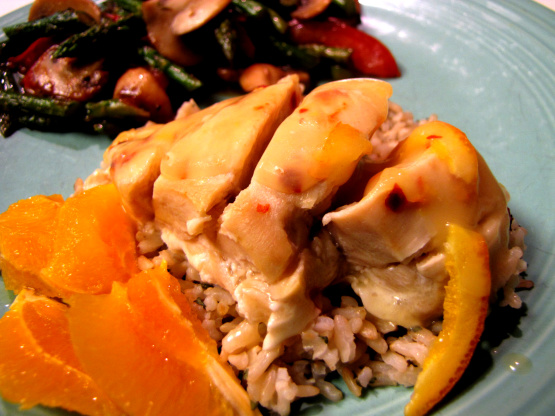 Can't remember where the original of this recipe came from, but I've had in on file for over 25 years! I find oranges and chicken to be such a great combination! Preparation time does not include cooking the rice. Sometimes I substitute Triple-Sec for the Curacao.
Preheat oven to 350 degrees F.
Put breasts in baking dish & LIGHTLY sprinkle with red pepper. Cover & bake for 25 minutes.
Remove peel from the orange & slice half of the peel into julienne strips, setting them aside & discarding the rest of the peel.
Put julienne strips of peel in a saucepan with enough water to cover, & bring to boil. Simmer 15 minutes, then drain well & set aside.
Section the orange & set them aside for garnish.
Cook rice according to package, but omit any required salt.
Add parsley & basil, mixing well.
For the sauce, stir together the flour & sugar in a saucepan, then stir in the juice, cooking & stirring until thickened & bubbly. Remove from heat & add reserved orange peel, bitters & curacao.
Slicing across the grain at a 45 degree angle, cut the breasts into slices 2" wide. Reassemble each breast & return to baking dish.
Spoon sauce over the breasts & return to oven, & bake, uncovered, 10 minutes until heated through.
Arrange breasts on the hot cooked rice & spoon the sauce over them. Garnish with reserved orange sections & several sprigs of parsley.