Orange-Sauced Broccoli and Peppers
lazyme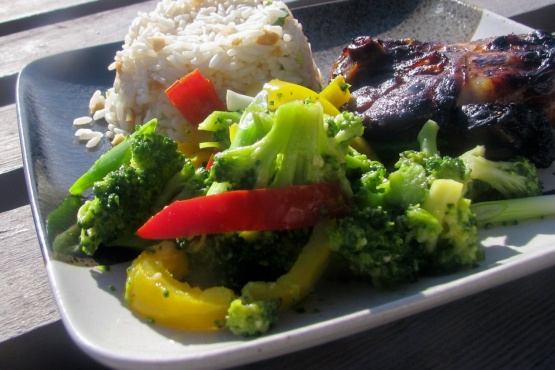 This makes a beautiful side dish to serve with pork or chicken. I use a combination of yellow and red bell peppers for a wonderful color combination. The recipe is from The Diabetic Cookbook with some minor changes.

Omg this was wonderful! I use red, orange and yellow baby peppers. I didn't cook the peppers as long as the broccoli because I didn't want them to be too soft but otherwise made this delicious dish as directed. Made for ZWT9 Soup A Stars
Place the broccoli and bell peppers in a steamer basket.
Place over 1 to 2 inches of boiling water, cover and steam for 6 to 8 minutes or just until crisp tender.
In a small saucepan, melt the butter, add green onions and garlic.
Cook until onion is tender.
Stir in cornstarch, orange juice and mustard.
Cook and stir until mixture is thickened and bubbly; stir and continue to cook for 2 minutes more.
Place steamed broccoli in a serving bowl, pour sauce over and toss gently to coat.