PaulaG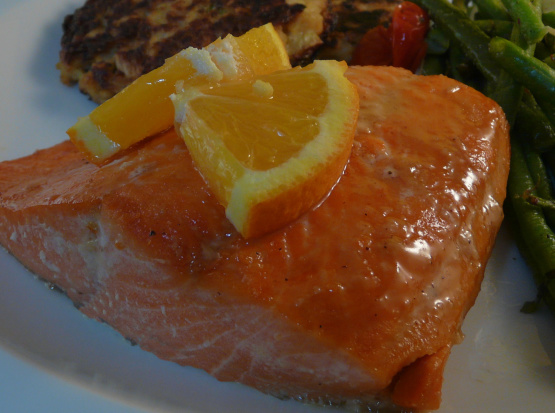 Oranges and brown sugar make this sweet salmon dish absolutely wonderful !!! I'm a little rough on the quantities, as I tend to add as necessary, but you can do the same. Fortunately, it's about the easiest recipe you'll ever meet.

Top Review by Debi H
This was really good and so easy to make - I got home from work late tonight, so threw this together and had a nice, healthy meal on the table quickly. I also used the Splenda and turned the oven to high for the last few minutes. Definitely will be making this again. Thanks for posting!
I like to take a fork and poke a few holes in the fish to let the orange juice soak inches.
Then, take half the orange and squeeze over the salmon to cover with juice. Coat generously with brown sugar and sprinkle with salt and pepper.
Next, slice remaining orange half into thin slices and put in oven at 350 for about 10-15 minutes. Remove orange slices and continue to cook until done to satisfaction, maybe 10-15 minutes.
Remove and squeeze orange slices over fillets. Serve and watch the smiles.