Orange Roughy With Tarragon and Vegetables
PaulaG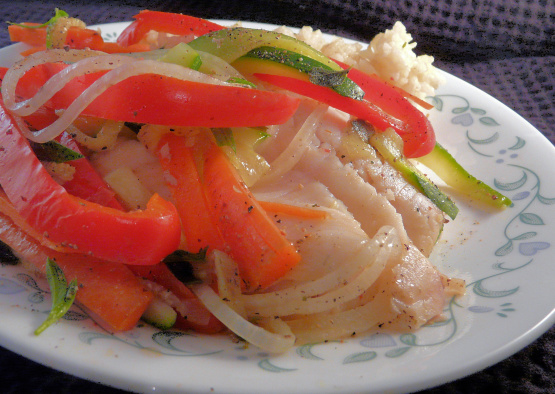 Quick and easy seafood recipe for the grill.
Top Review by PaulaG
A fantastic warm weather meal. I omitted the quick cooking of the vegetables and used tilapia in place of the orange roughy. Not having red onion, I sliced a sweet white onion and separated it into rings. The vegetables were crisp tender and the fish was perfect. Something I will be making again during the hot summer months.
Preheat grill.
Heat oil in large skillet and quickly cook vegetables (about 2-3 minutes on a medium-high heat).
Take four large pieces of aluminum foil. Place one piece of fish on each.
Top with 1/2 tablespoon butter, 1/4 of the vegetables and 1/4 of the tarragon.
Repeat for the other pieces.
Wrap tightly and place on grill.
Grill over a medium heat for 12 - 18 minutes. Open carefully because the steam can be very hot.