PaulaG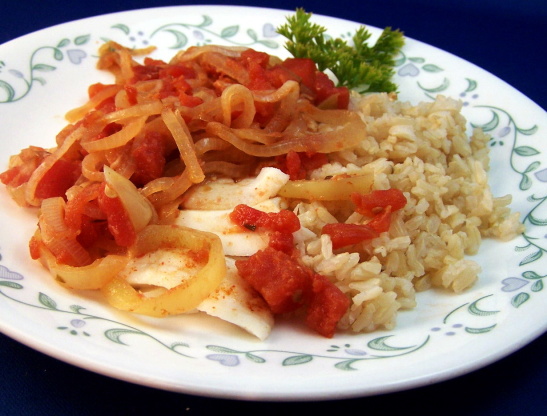 This dish was prepared and plated in about 45 minutes (including prep time) and was very easy to make. We made the dish just as the recipe read with no substitutions. For the ground red pepper we used cayenne (go very light lest it be too hot). I will admit that we bumped the amount of garlic up a bit to about 3 cloves chopped.
Heat oil in a large nonstick skillet over medium heat. Add onion
and garlic, saute 7 minutes or until tender.
Add peppers and tomatoes; cook over medium-high heat 3 minutes.
Add fish; sprinkle with garlic powder and pepper.
Cover and reduce heat, simmer 5 minutes.
Turn fish over.
Cover and simmer an additional 5 minutes or until fish flakes with a fork.
Transfer to individual serving plates, reser ving cooking sauce in skillet. Keep fish warm.
Place skillet with cooking sauce over medium-high heat, and cook 3 minutes or until thickened.
Serve sauce over fish.