Orange Rosemary Roasted Chicken
Pam-I-Am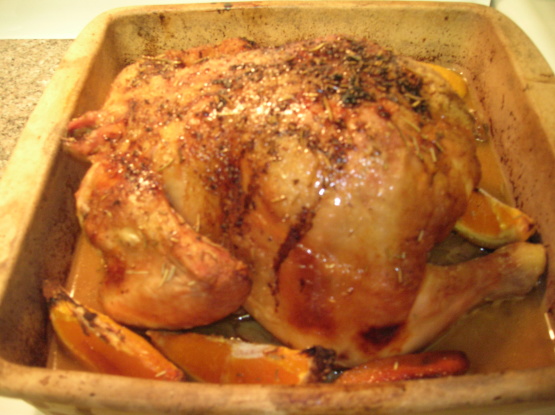 A delicious rosemary and orange flavored roast chicken that is a big hit with family and friends. Recipe works equally well with chicken pieces. As with the whole chicken baking time will vary as to the size of the chicken, with the pieces needing less baking time. This one will get you oohs and aahs before they have that first bite!

This recipe is worthy of far more than 5 stars. I followed the ingredients with only one minor variation: I had an extremely large orange, which I cut into sixths and stuffed inside the bird as well as laid around it in the roasting pan. I adjusted the roasting method a bit. I had a 4 lb. bird, so I roasted it for 2 hours total--1 1/2 hours covered and the last 30 minutes uncovered after brushing on the glaze. The chicken turned out ultra juicy with crispy, browned skin. It smelled heavenly fragrant while roasting, and the flavor was excellent. The skin was crispy and caramelized from the glaze. It was sheer eating pleasure (so much for cholesterol for one day!). I carved the bird and drizzled some of the thickened, caramelized sauce from the bottom of the pan over the carved meat. Our family enjoyed this recipe a great deal. DH turned to his animal instincts and licked his fingers after disassembling his drumstick in record time, and 15-month-old DD asked for seconds (unusual for her!). Thanks for a keeper! (Made for AUS/NZ Recipe Swap #39)
Wash chicken and pat dry.
Brush chicken with melted butter,season both inside and out with salt and pepper and rosemary, placing one clove garlic inside chicken.
Place in roaster with the orange juice, quartered orange, and remaining clove of garlic.
Roast uncovered in 350 oven until chicken is well browned, fork tender, and juices run clear when pierced with a fork about (1 1/2 to 2 hours).
Make glaze by mixing marmalade and dry rosemary, brush onto chicken and bake for another 10 minutes.