Orange Rosemary Grilled Pork Tenderloin
L. Duch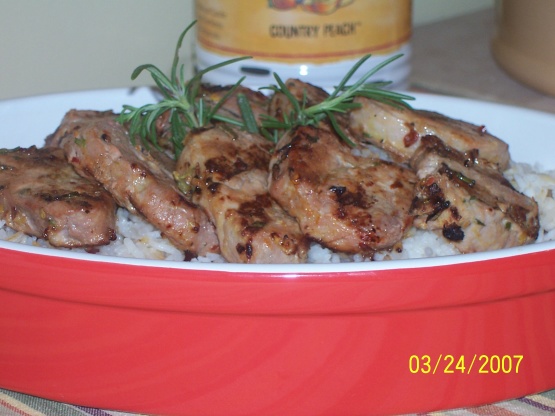 This is my own recipe. I love the flavour of rosemary and orange together, so I came up with a marinade for pork tenderloin. This turned out really good. Makes for a really healthy and fresh tasting grilled pork dish. Served this with Almond Cranberry Rice and carrots.

The combination of orange and rosemary is an old favorite and here worked exceptionally well. Juicy and flavorful.
NOTE: Most of the time is for marinading time. Actual work time (putting it together and then cooking) is about 30 minutes.
Cut tenderloin into 1-1/2" thick medallions.
Mix remaining ingredients together and pour into a ziplock bag.
Put tenderloin in marinade and mix around well, being sure to coat meat thoroughly.
Put in fridge for at least 4 hours, but the flavours infuse better when left overnight.
When ready to cook. Heat your grill and remove medallions from marinade, discarding marinade, and grill on med/high until done. About 15 minutes.