gailanng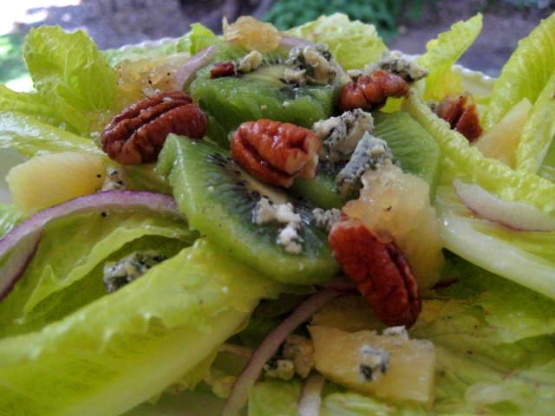 A salad that is fancy enough to serve for a special occasion or the holidays.

Peeped through your recipes and just had to make this one. One little change, though. I bought a can of oranges, but wanted to use up some leftover pineapple from another recipe, so I subbed those. This made the prettiest summer salad that I've ever seen and most certainly will make again, but back to the peeping thing. I was wondering if that makes me a Peeping GailAnn?
In large mixing bowl, combine romaine, kiwi, orange sections and sliced onion. Set aside. In small mixing bowl, combine olive oil, lime juice, vinegar and marmalade. Mix well. Just before serving, toss salad with dressing. Sprinkle top with pecans and blue cheese.