Orange Roasted Baby Carrots
ImPat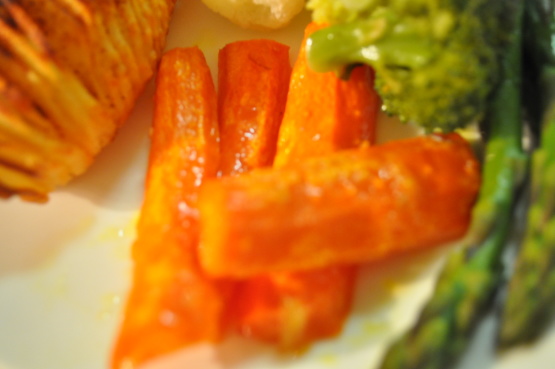 This is an easy and delicious way to cook carrots. Try to choose a bag that is fairly dry (not been sprayed over and over by the grocery store mister) so that they will caramalize better.

Top Review by ImPat
I used 3 medium carrots (weight about 1/2 pound/8 ounces) which I halved and then halved the halves to make large sticks, so scaled the recipe back and cooked as directed though warmed up the marmalade mix in the microwave using a low sugar variety. Thank you Paja for a lovely tasting carrot recipe, made for ZAAR Chef Alphabet Soup.
Pre-heat the oven to 475 degrees.
Spray a cookie sheet with cooking spray.
Toss the carrots, oil and salt together, put them on the cookie sheet in a single layer, and place in the oven.
Meanwhile, in a small pan, heat the marmalade, ginger and water.
After 12 minutes, shake the cookie sheet and drizzle the marmalade mixture over the carrots.
Continue roasting for another 8 minutes or until desired degree of doneness is reached.