Orange, Red Onion, and Black Olive Salad
Leslie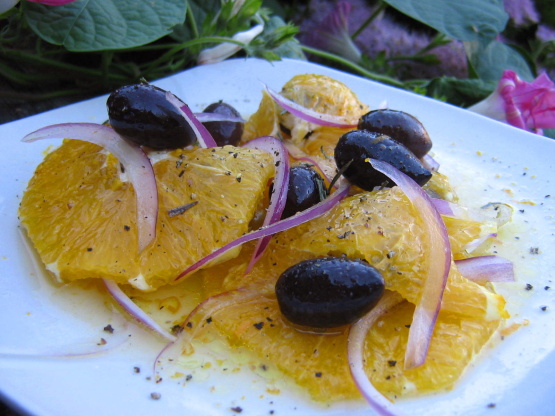 I love the combination of flavors of the beautiful simple salad. This is a recipe from Mary Englbreit's Home Companion magazine about 5 years ago. It is a great compliment to roasted fowl or pork. Everything can be prepared before hand and put together up to 2 hours before serving and refrigerated. I took this to a work Thanksgiving potluck once and it got a great response. I lost the recipe shortly afterwards only to find it recently. I will be making it again.
Whisk olive oil, lemon juice, and orange zest in a small bowl until well combined. Add olives set aside for at least one hour.
To take some of the bite out of the onions drop the slices in boiling water for about 4 minutes. Drain and refresh in ice water, and drain well again. OR my best result is to prepare the dressing, add olives and onions and marinate for at least four hours or overnight.
Layer oranges and onions on a serving plate. Drizzle layers with olives and dressing. Top with a little sprinkle of salt, a few grindings of fresh pepper, and the rosemary.
Preparation time does not include marinating time.