Orange Poppy Seed Muffins (Light)
CoffeeB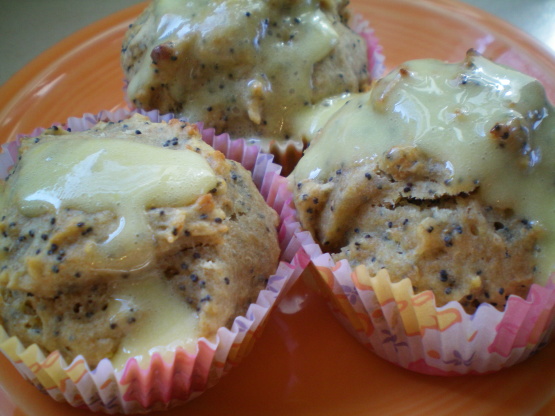 Loved the poppy seed and orange, but found them kind of dense and a little dry. I added cranberries to half the batch and that worked nicely for a little sweetness. All in all these were good, healthier muffins!
Preheat oven to 350°F
Line a 12-inch muffin baking tin with paper cupcake liners (or spray lightly with cooking spray).
In a large mixing bowl, sift together both flours, baking powder, and poppy seeds.
In another mixing bowl, whisk together brown sugar, eggs, vanilla, yogurt, oil, orange zest, and orange-juice concentrate.
Using a rubber spatula, fold the wet ingredients into the dry, just enough to combine. The batter will be very thick.
Divide the batter among the muffin cups with a tablespoon, filling each about two-thirds. Bake for 25 to 30 minutes, until lightly browned and a toothpick inserted into the center of a muffin comes out dry.
Cool on a wire rack.
If using glaze, blend confectioners' sugar with the orange-juice concentrate. Drizzle over muffins and serve.