Orange Poppy Seed Biscotti
Boomette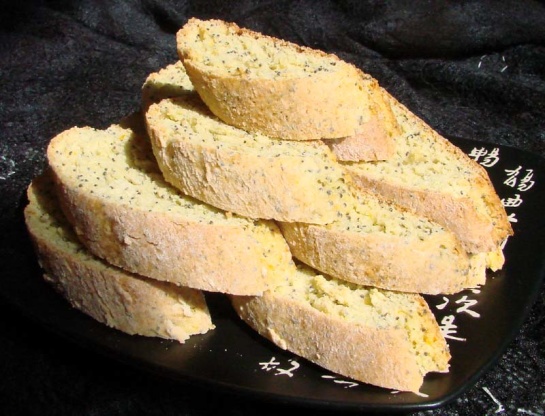 I found this on healthdiscovery.net and began making a few changes to suit my own tastes and preferences. The original was for lemon biscotti and can easily be switched back. One point per cookie.
I used all purpose flour. I reduced the sugar to 1/2 cup. I used 2 eggs and added fresh orange juice. The dought was hard to mix so I added a bit more orange juice and half a lemon juice. The taste is good but I don't taste the ground almond. Thanks Toni. Made for HOliday tag.
Preheat oven to 350 degrees.
Combine the dry ingredients (flour, sugar, ground almonds, poppy seeds, baking powder and baking soda) together in a bowl.
Combine the zest, egg, egg whites and extract in a second bowl. Add the dry mixture and mix well. Form the dough into 2 logs each 8-9 inches long.
Place logs onto a cookie sheet lined with parchment paper. Bake for 30 minutes. Let cool slightly and cut diagonally into 1/2 inch slices. Put cut slices soft sides down back on the cookie sheets and bake slices another 8 to 10 minutes until dry.
Cool completely and store in an airtight container.