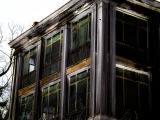 I got this Fab recipe from the Kraft food website I made some chinese food for a while and found this super easy and super good.
Directions
DRAIN pineapple, reserving juice. Add cold water to juice to measure 2 cups; set aside.
STIR boiling water into gelatin in large bowl at least 2 minutes until completely dissolved. Stir in measured liquid. Refrigerate about 1 1/2 hours or until thickened (spoon drawn through leaves definite impression). Stir in pineapple chunks and oranges. Spoon into 6-cup serving bowl.
REFRIGERATE 4 hours or until firm. Garnish as desired. Store leftover gelatin in refrigerator.
Reviews
Most Helpful
The kids had this as a snack instead of dessert. They loved it. Zaar World Tour 05
Very pretty and very easy. Made a wonderful ending to a heavy meal. Very resreshing and fruity! Thanks for a great recipe!

Always room for jello...this is no exception! Loved the citrus as pineapple and orange are a a fav combo! Thanx Chad, esp from DD#3!