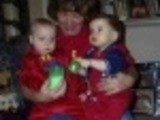 This is great in tea or sprinkled on your favorite sugar cookie recipe. It can replace regular sugar in a pound cake to add flavor. Use limited only by your imagination.
Directions
Place the peel in a blender with 1/2 C of the sugar and blend for about 5 seconds or until the peel is finely blended.
Stir in the additional cup of sugar using a spoon.
Serve with tea, or sprinkle over cookies, or use as a regular sugar replacement where ever you think it would taste good.
Most Helpful
Quick and excellant little gift that I made for myself and my tea loving aunt. Thanks. Will use this also for cookies and such.

This sugar tastes so delicious, I'm sure it would be good on anything. I made this with lemon, and used some for lemonade, but would love, like Mae East says, to roll some cookies in it to really get the lemon flavor. thanks Trisha, I look forward to trying this many different ways!

This was great for rolling molasses cookies in instead of the usual plain sugar. (I used lemon). It made them special. Thanks!